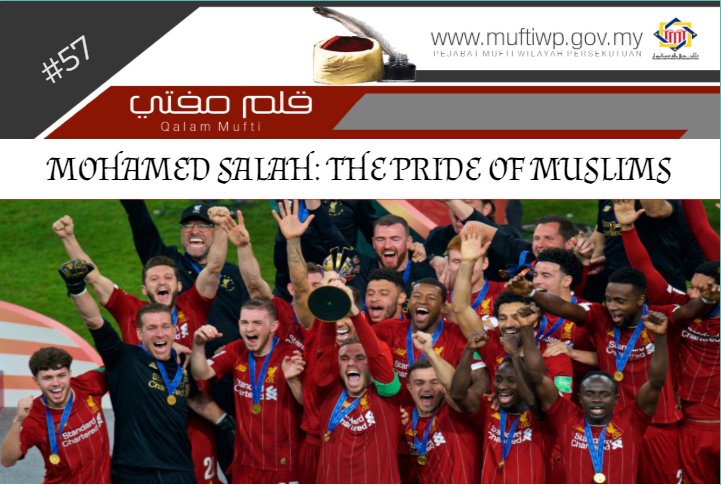 Alhamdulillah, praise and thanks to Allah for the countless blessings He has blessed us all with. Blessings and salutations to the Prophet Muhammad PBUH, his wives, his family, companions and all those that follow his teachings to the day of judgement.
In this year's FIFA Club World Cup Championship, we are informed of Liverpool FC's win (champions of Europe - England) beating Flamengo CR (champions of South America - Brazil) in the finals early this morning.
This win is a great victory for Liverpool for it is their first time being crowned champions of the world in the long history of the club's establishment of nearly 130 years. This victory holds greater meaning for it is their redemption game for their loss in the 1981 edition of the World Cup Championship against the same club Flamengo, where Flamengo was represented by Brazilian legend, Zico, at the time.
It's a significant victory for every Muslim for our favourite player, Mohamed Salah was awarded the Golden Ball Award Winner and Ali Baba Cloud Award.
In this edition of Qalam Mufti, we would like to share the 7 great qualities that we found in Mohamed Salah. Hopefully, it would inspire us all.
He always works hard and is committed during training. This is proven in their live matches where he showcases his stamina, speed, skills, passing techniques and great understanding with his teammates.
Mohamed Salah is well-known for his kindness and approachable attitude with his fans. We are touched when we watched a video clip where he visited and encouraged a sick Syrian child and how he appreciates a blind Liverpool fan and his friend.
He would always perform the prostration of gratitude every time he scored a goal.
He is always with the Quran. In a video clip, it can be seen he carries the Quran with him during his travels with his Liverpool team.
He is a generous person. Mohamed Salah donated funds for his fellow citizens in Egypt.
He lives modestly. During the time where the majority of world players flaunt their luxury cars, houses and holidays, he leads a modest and private lifestyle away from the press.
A great example of a leader for a family. Compared to his teammates, Mohamed Salah has managed to protect his wife and children from the dangers of his fame.
Lastly, we would like to congratulate Liverpool especially Mohamed Salah for their victory!
Hopefully, this would inspire football fans around the world.