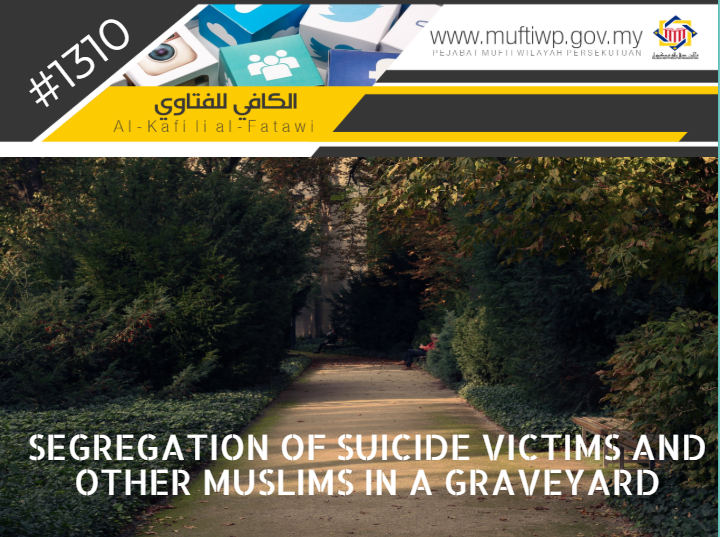 Question:
Is it an obligation to segregate suicide victims and other Muslims in a graveyard?
Answer:
Alhamdulillah, praise and thanks to Allah for the countless blessings He has blessed us all with. Blessings and salutations to the Prophet Muhammad PBUH, his wives, his family, companions and all those that follow his teachings to the day of judgement.
Suicide is one of the major sins which will result in the wrath of Allah SWT. This is in accordance with Quranic and prophetic evidences. Some of them are:
وَلَا تَقْتُلُوا النَّفْسَ الَّتِي حَرَّمَ اللَّهُ إِلَّا بِالْحَقِّ
"And do not kill the soul which Allah has forbidden, except by right."
Surah al-Isra' (33)
The above verse states the prohibition of killing humans without any permitted reason by Islamic law (hukum syarak). The general prohibition also includes the prohibition of killing oneself.
مَنْ قَتَلَ نَفْسَهُ بِشَىْءٍ عُذِّبَ بِهِ يَوْمَ الْقِيَامَة
"Whoever kills himself with something, he will be punished with it in the Hereafter,"
Sahih al-Bukhari (6047) and Sahih Muslim (110)
We have published other articles regarding related to the issue of suicide and its related rulings under the following titles:
BAYAN LINNAS SERIES 74: PRESSURES OF LIFE LEAD TO SUICIDE: THE RULINGS AND SOLUTIONS
AL-KAFI #1162: IS IT NECESSARY TO PERFORM THE JENAZAH PRAYER FOR THOSE WHO COMMIT SUICIDE
The Ruling of Burying A Suicide Victim
Scholars have agreed that a person who died by committing suicide is not considered as an apostate (someone who has renounced Islam), although he has committed a major sin. The scholars also agreed that it is an obligation to shroud and bury suicide victims as it is a kifayah obligation, the same as it is an obligation to bath and perform the jenazah prayer for them. Refer al-Mausu'ah al-Fiqhiyyah al-Kuwaitiyyah (6/295)
Imam ibn Battal Rahimahullah said: "Consensus of the jurists and ahli sunnah have agreed that whoever commits suicide is not considered as an apostate, janazah prayer upon him should be performed and his is sinful (of killing himself) is as stated by Imam Malik, and he is to be buried in the Muslim graveyard." Refer Syarh Sahih al-Bukhari (3/349)
Imam Syihabuddin al-Ramli Rahimahullah said: "And the bathing, shrouding, praying upon him, carrying him to the graveyard is a kifayah obligation as agreed by scholars according to the commandments in the Quran and al-Sunnah, regardless if the deceased committed suicide or otherwise." Refer Nihayah al-Muhtaj ila Syarh al-Minhaj (2/441)
Conclusion
Muslims who committed suicide is not considered as an apostate due to their actions. Furthermore, it is a kifayah obligation for other Muslims to bath, shroud and pray for them as well as burying them in a Muslim graveyard.
Thus, in our opinion, suicide victims should not be segregated from others when they are buried in Muslim graveyards. The deceased body should be managed the same way as other deceased Muslims, which also includes its placement in the graveyard.
May Allah SWT give us goodness and the correct understanding in His religion and ultimately give us the strength and ability to practise it. Amiin.