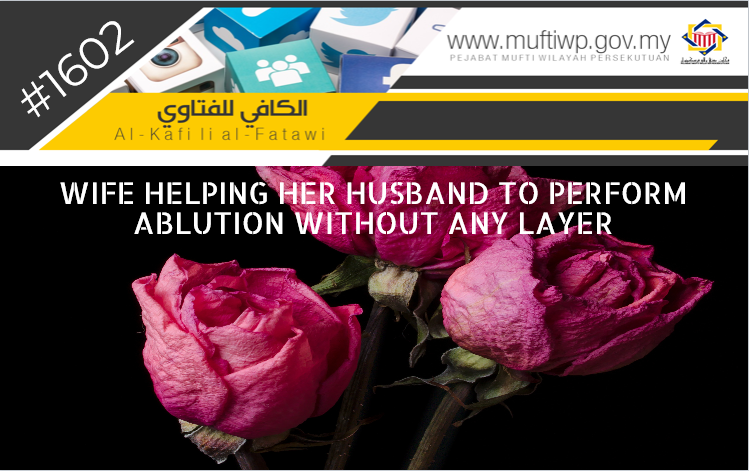 Question:
Assalamualaikum ustaz. My father is weak and weary that he can no longer walk or even move his hands to wipe or wash his body parts to perform his ablution. My question is if my mother helped him to wipe and wash his body parts for ablution, is my father's ablution valid?
Answer:
Waalaikumussalam. Alhamdulillah, praise and thanks to Allah for the countless blessings He has blessed us all with. Blessings and salutations to the Prophet Muhammad PBUH, his wives, his family, companions and all those that follow his teachings to the day of judgement.
Helping each other in good deeds is a greatly encouraged deed in Islam especially if this is cultivated in a family which involves husband, wife, siblings and children.
According to the above situation, the original ruling for a wife who touches her husband or an ajnabi man who has already performed his ablution without any layering, then the ablution will be invalidated. This is clearly stated in madhhab Syafie books. Regardless whether the contact happens on purpose, accidental, with or without desires, it is an absolute invalidation.
(See al-Fiqh al-Manhaji, 1/63)
The evidence is based on the statement of Allah SWT when He explains the situations where ablution will be invalidated,
أَوْلَامَسْتُمُ النِّسَاء
"Or you have contacted women…"
Surah al-Nisa' (43)
However, Islam is a flexible religion which provide exceptions for an original ruling when there is a necessity but at the same time maintaining the purity of its principles. The exceptions are based on the Islamic legal maxim which states:
إذا ضاق الأمر اتسع وإذا اتسع ضاق
"When in a predicament, facilitation (rukhsah) is given. When the predicament ceases to exist, then it is back to the original ruling."
The determination of this maxim by scholars is according to numerous verses of the Quran and hadiths which shows that shariah provides an exit and solution for several desperate situations. For example, a verse of the Quran states:
يُرِيدُ اللَّـهُ بِكُمُ الْيُسْرَ وَلَا يُرِيدُ بِكُمُ الْعُسْرَ
"Allah intends for you ease and does not intend for you hardship."
Surah al-Baqarah (185)
In a hadith narrated by Abu Hurairah RA, the Prophet PBUH said:
إِنَّما بُعِثْتُم مُيَسِّرينَ ولَمْ تُبْعَثوا مُعَسِّريْنَ
"You have been sent to make things easy and not to make them difficult."
Sahih al-Bukhari (220)
In the above situation, as a solution for the calamity that has befallen on the husband, we state that the ablution of the husband is valid according to the maslahah of the situation. This is also the opinion of some of the weak opinions in madhhab al-Syafie as cited by Imam al-Nawawi (died in 676 H), which states physical contact without desires does not invalidate the ablution.
(See al-Majmu', 2/24)
Furthermore, madhhab Hanafi also states that physical contact between a man and a woman including husband and wife does not invalidate the ablution in absolution. Their argument states that they state the meaning of "having contact" is having intercourse. This meaning is also the chosen opinion of Ibn Abbas RA.
(See al-Bahru al-Raiq, 1/47)
However, the widening of the ruling according to the weak opinion in madhhab al-Syafie or madhhab Hanafi is not an absolution, consequently, there are several guidelines that should be fulfilled such as the absence of other male mahram (children or siblings) or gloves (if the wife intends to help). This is clear according to the concept of an Islamic legal maxim:
الضرورة تقدر بقدرها
"An exigent situation leads to its permissibility within the limits (not excessively)."
This principle should be upheld by the Muslim community in ensuring that the rules and enforcement of the shariah in our daily lives are in order and structured at the same time preventing us from being indifferent in religious matters.
According to the above situation, we are inclined to state that rukhsah or facilitation is given by syarak. However, the rules are according to the consideration of maslahah-mudarat (harm) together with guidelines set in place so that it is not included as being indifferent and talfiq in religious matters.
Please refer to our related article regarding talfiq and tatabbu' rukhas: AL-KAFI #1479: IS IT PERMISSIBLE FOR THE BRIDE AND GROOM TO FOLLOW OTHER MADHHABS' CONDITIONS OF ABLUTION FOR THEIR WEDDING CEREMONY?
Wallahua'lam.