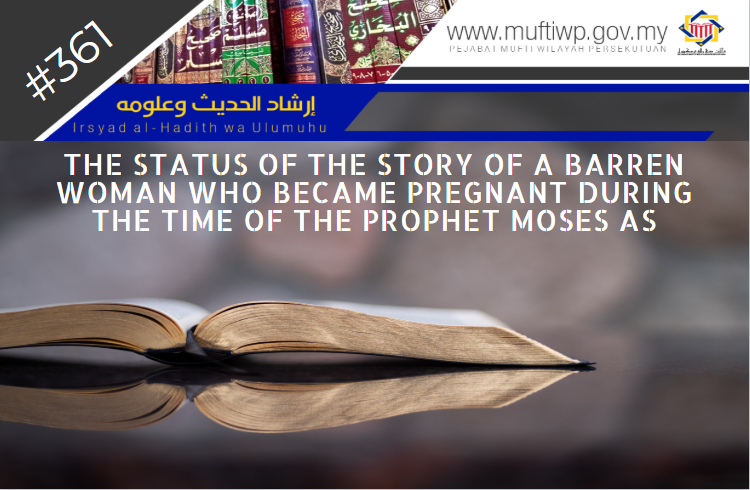 Question:
What is the status of the story regarding the miracle of supplication and the advantage of reciting "Ya al-Rahim"?
A woman came to meet the Prophet Moses AS. She said: "Pray to your God so that I will be blessed with a child." Afterwards, the Prophet Moses AS make du'a to Allah SWT regarding this matter. Allah SWT responded: "O Moses! I have predetermined her to be a barren woman." The Prophet Moses AS told the woman the reply of the du'a. After some time has passes, the Prophet PBUH saw the woman again and she is holding a small child. The Prophet Moses AS asked: "Who is this child with you?" The woman answered: "This is a child that Allah SWT has blessed me with." The Prophet Moses AS asked Allah SWT: "Didn't You predetermined the woman to be a barren?" Allah SWT answered: "O Moses! Every time I have decided that she is a barren woman, she would say (supplicate to Me): O al-Rahim! Every time You decided that I'm a barren woman You are the Most Loving. And thus, My love surpasses My predeterminations."
Answer:
Alhamdulillah, praise and thanks to Allah for the countless blessings He has blessed us all with. Blessings and salutations to the Prophet Muhammad PBUH, his wives, his family, companions and all those that follow his teachings to the day of judgement.
As believers, we should always pray to Allah SWT for every human is weak and always in need of his Creator in every situation and time. Thus, there are numerous supplications taught to us by the Prophet PBUH for us in our daily lives. Allah SWT commanded us to always supplicate to Him through His statement:
وَقَالَ رَبُّكُمُ ادْعُونِي أَسْتَجِبْ لَكُمْ
And your Lord says, "Call upon Me; I will respond to you."
Surah al-Ghafir (60)
Imam Ibn 'Asyur in his commentary said that the above verse is an evidence that Allah SWT commanded His slaves to supplicate to Him for their requests and it is also the evidence of its sanctioning and there is no khilaf on this matter among the Muslims. (See Tafsir Ibn 'Asyur, 183/24)
According to the above story, we did not find its origin and we did not find the story in any renowned books. Thus, we are inclined to state the unauthenticity of this story and we should never relate it to the Prophet Moses AS.
Conclusion
To conclude, the story is not authentic and its source is unknown. However, supplication is the weapon of believers and it can change fate as stated in the hadith. Lastly, may Allah SWT make us from among His slaves whose supplications are granted. Amin.
Wallahua'lam.