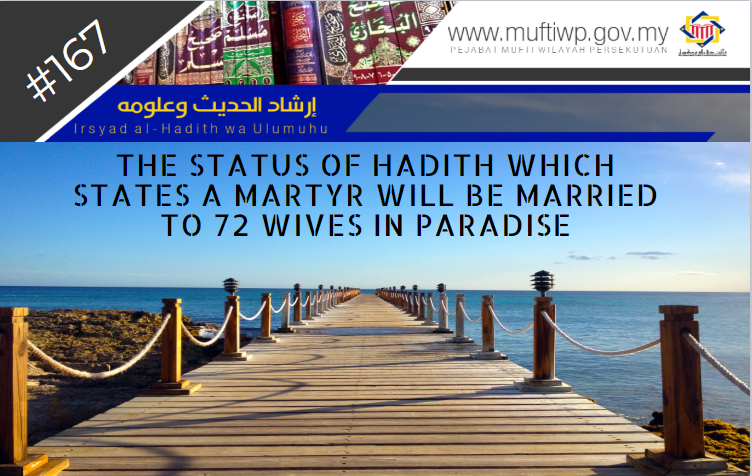 Question:
Assalamualaikum, what is the status of the hadith which states a martyr will be married to 72 wives in paradise?
Answer:
Waalaikumussalam.
Alhamdulillah, praise and thanks to Allah for the countless blessings He has blessed us all with. Blessings and salutations to the Prophet Muhammad PBUH, his wives, his family, companions and all those that follow his teachings to the day of judgement.
According to the above question, the hadith which stated that a martyr will be married to 72 wives is narrated by Imam al-Tirmizi in his Jami' or Jami' al-Tirmizi.
From al-Miqdam RA, he said, the Prophet PBUH said:
لِلشَّهِيدِ عِنْدَ اللَّهِ سِتُّ خِصَالٍ: يُغْفَرُ لَهُ فِي أَوَّلِ دَفْعَةٍ، وَيَرَى مَقْعَدَهُ مِنَ الجَنَّةِ، وَيُجَارُ مِنْ عَذَابِ القَبْرِ، وَيَأْمَنُ مِنَ الفَزَعِ الأَكْبَرِ، وَيُوضَعُ عَلَى رَأْسِهِ تَاجُ الوَقَارِ، اليَاقُوتَةُ مِنْهَا خَيْرٌ مِنَ الدُّنْيَا وَمَا فِيهَا، وَيُزَوَّجُ اثْنَتَيْنِ وَسَبْعِينَ زَوْجَةً مِنَ الحُورِ العِينِ، وَيُشَفَّعُ فِي سَبْعِينَ مِنْ أَقَارِبِهِ
"There are six things with Allah for the martyr. He is forgiven with the first flow of blood (he suffers), he is shown his place in Paradise, he is protected from punishment in the grave, secured from the greatest terror, the crown of dignity is placed upon his head - and its gems are better than the world and what is in it - he is married to seventy two wives along Al-Huril-'Ayn of Paradise, and he may intercede for seventy of his close relatives."
Sunan al-Tarmizi (1663) [Imam al-Tirmizi evaluated this hadith as sahih gharib]
The Meaning of the Hadith
Considering the above hadith, we know that anyone who died as a martyr fighting on the road of Allah SWT has special advantages and benefits in the eyes of Allah SWT. In this hadith, it is stated that there are six advantages of a martyr fighting for Allah SWT. Among the advantages is he will be married to 72 wives in paradise.
Syeikh Mulla Ali al-Qari when commenting on this hadith said, a martyr is blessed with marriage to 72 wives. The total number stated is a determined total (تحديد) and does not refers to a plural (تكثير) meaning. It can also be understood that the blessing of 72 wives is the minimum and it is not an issue for them to be blessed with more than 72 wives.
Wives meant here are women of paradise and the meaning (حور) from (حوراء) means very fair (skin) and black eyes. Whereas (العين) plural form is (عيناء) which means large (big) eyes. (See Mirqah al-Mafatih, 2483/6)
Conclusion
To conclude, the hadith narrated the advantages for those who died as martyr fighting for Allah SWT. For this, the Companions RA and the solihin always aspire to die as martyrs on the road of Allah SWT. Lastly, may Allah SWT bless us with good ending and let us enter paradise where we will be eternal residents of paradise. Amin.
Wallahua'lam.