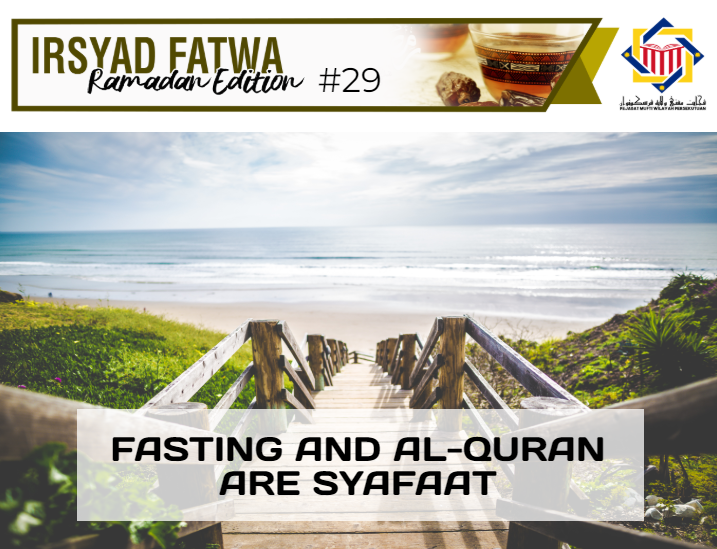 Question:
Assalamu'alaikum SS Dato' Mufti. Is it true that fasting and the Quran are syafaat (will intercede on our behalf in the hereafter)?
Answer:
Waalaikumussalam wbt,
Alhamdulillah, praise and thanks to Allah for the many countless blessings He has blessed us all with. Blessings and salutations to the Prophet Muhammad PBUH, his family, companions and all those that follow his teachings to the day of judgement.
This is true, the Prophet PBUH said:
الصِّيَامُ وَالقُرآنُ يُشَفِعَانِ لِلْعَبدِ يَومَ القِيَامَةِ. يقولُ الصِيامُ: أَي رَبَّ، مَنَعْتُهُ الطَّعَامُ وَالشَّهوَاتِ بِالنَّهَارِ فَشَفِّعْنِي فِيهِ. وَيَقُولُ القُرآنُ: رَبِّ، مَنَعْتُهُ النَّومَ بِاللَّيلِ فَشَفِّعْنِي فِيهِ فَيُشَفِّعَانِ
"Fast and the Quran will intercede on the Day of Judgement. Fast would say: O my Rabb, I prevent him from eating and succumbing to his desires during the day. Thus, I plead to you on his behalf. Al-Quran will say: My Rabb, I prevent him from sleeping at night, I plead for him on your behalf. Both of them plead on behalf of the servant."
Musnad Ahmad