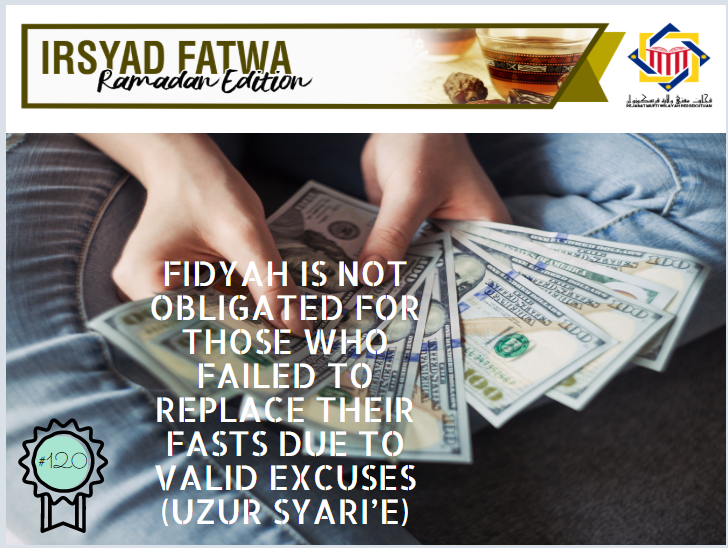 Question:
Assalamualaikum w.b.t SS Dato' Seri. Is it obligated to replace (qadha') and pay kaffarah for a woman who failed to replace her fasts of last year's Ramadhan? The reason is she is pregnant or breastfeeds her child. Thank you.
Answer:
Waalaikumussalam w.b.t,
Alhamdulillah, praise and thanks to Allah for the countless blessings He has blessed us all with. Blessings and salutations to the Prophet Muhammad PBUH, his wives, his family, companions and all those that follow his teachings to the day of judgement.
In Islamic jurisprudence, pregnancy and breastfeeding are two valid excuses of breaking fast.
إِنَّ اللَّهَ عَزَّ وَجَلَّ وَضَعَ عَنِ الْمُسَافِرِ شَطْرَ الصَّلاَةِ وَعَنِ الْمُسَافِرِ وَالْحَامِلِ وَالْمُرْضِعِ الصَّوْمَ
"Allah has relieved the traveler of half of the prayer, and He has relieved the traveler, the pregnant, and the nursing mothers of the duty to fast."
Sunan Ibn Majah (1667), Sunan Abi Dawud (2408) and Jami' al-Tirmidhi (715)
It is compulsory for women who do not fast due to pregnancy or breastfeeding to replace the missed days of fasting on the normal days. If she fails to replace them, not due to the valid reasons, she is considered sinful and it is obligated for her to pay fidyah of one mudd (cup) of local staple food, weighing 600g per day. Refer al-Fiqh al-Manhaji (2/92).
Syeikh Muhammad al-Zuhaili in al-Mu'tamad fi al-Fiqh al-Syafie (2/200) said: "If a person delays the replacement of fasts due to valid reasons; constant sickness, breastfeeding, being pregnant or constantly travelling until another Ramadhan of the following year, it is not obligated to pay fidyah due to this delay, and only obligated to replace the missed fasts."
The same is stated in al-Taqrirat al-Sadidah (Qism Ibadat) (page 456) by Syeikh Hassan al-Kaf:
"If a person delays the replacement of fasts due to valid excuses like travelling (musafir), sickness, breastfeeding, forgetfulness and have no knowledge – then, it is not obligated on the person to pay fidyah"
Referring to the above facts and explanations, it is clear that mothers who delay their replacement fasts due to valid excuses like constant sickness, breastfeeding and being pregnant, are not obligated to pay fidyah if they fail to replace them before reaching the next Ramadhan.
May this explanation able to give some enlightenment to those who ask. Wallahua'lam.