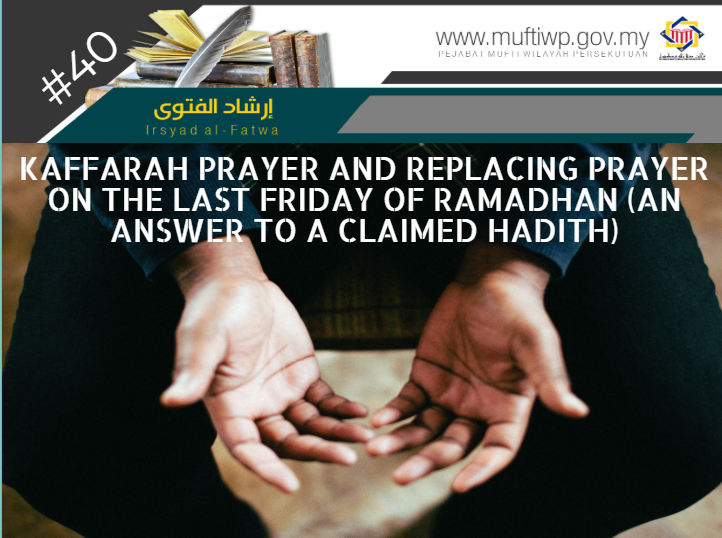 Question:
There was a viral issue regarding a statement made where it states that there was a hadith on kaffarah prayer and the reward of replacing (qadha) prayers on the last Friday of Ramadhan as the same as replacing prayers for 400 years. Is this true?
Answer:
Alhamdulillah, praise and thanks to Allah for the countless blessings He has blessed us all with. Blessings and salutations to the Prophet Muhammad PBUH, his family, companions and all those that follow his teachings to the day of judgement.
My answer is as the following:
The statement merely is based on a saying from an ustaz (or a teacher), thus the real source or evidence referred to is unknown (majhul) and unverifiable.
If it is referred to someone, then the sanad (chain of narrators) should be analysed to determine whether it is continuous and leads back to the Prophet PBUH or not.
Even if the sanad is continuous, then it should be ascertained that it is from thiqah (knowledgeable and trustworthy) narrators and not a conclusion or disposition of a certain narrator of the said hadith.
Why does it state special rewards on the last Friday of Ramadhan when the replacement (qadha) of prayers should be performed immediately and is not delayed until the end of Ramadhan?
The phrase "the same as replacing prayers for 400 years" as though it indicates that it is fine to leave or neglect one's prayer and replacing it on the last Friday of Ramadhan. It is claimed to erase those sins. This clearly contradicts the commandment of performing prayer during prayer's times.
The evidence or so-called hadith that supports it is not included. Thus, the statement is rejected.
Claiming something as the actions of the companion of the Prophet PBUH such as Saidina Abu Bakar and Saidina Ali without including the sanad (chain of narrators), contradicts the discipline of hadith.
According to Imam al-Syaukani in al-Fawaid al-Majmuah (pg. 54), this is a fake hadith.
Lastly, our late teacher Fadilatul Syeikh al-Allamah Abdul Qadir ar-Arnauth used to teach us that the first characteristic that indicates that a hadith is a fake one is those highlighting excessive, illogical rewards, and the rewards surpass the rewards of obligatory worships.
May Allah SWT protect us and guide us from the fitnah of believing and following fake hadith.