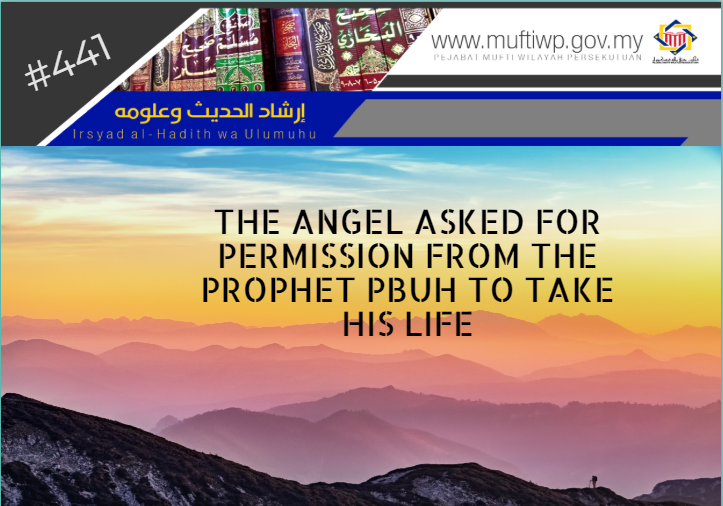 Question:
Is the following story or narration which states that the angel of death asked for permission from the Prophet PBUH to take his life true?
"Azrael AS came to meet the Prophet PBUH and said: 'The angel of death is at the door, asking for permission to meet you and he never asks for permission from any single creation before except you." Then, the Prophet PBUH permitted the angel of death to enter.
He came in and said: 'Peace be upon you O the Messenger of Allah. Allah has sent me to give you a choice between an everlasting life in the world or to meet Him." However, the Prophet PBUH chose to meet Allah SWT."
Answer:
Alhamdulillah, praise and thanks to Allah for the countless blessings He has blessed us all with. Blessings and salutations to the Prophet Muhammad PBUH, his wives, his family, companions and all those that follow his teachings to the day of judgement.
Reading sirah or the life of the Prophet PBUH is highly encouraged. This is because, the Prophet PBUH is a noble man and in his life lies the best example for his ummah to follow. Hence, to get to know his character and attributes, we should learn about the story of his life. Allah SWT acknowledges the characters of the Prophet PBUH as stated in the Quran:
وَإِنَّكَ لَعَلَىٰ خُلُقٍ عَظِيمٍ
And indeed, you are of a great moral character.
Surah al-Qalam (4)
Referring back to the question asked, we do not find the story or narration in the muktabar books.
Closing
In conclusion, the above story's origin is not known for it is not stated in muktabar books although it is narrated in the books written in the recently. Lastly, may Allah SWT make our character like the character of the salaf al-soleh who lived in the best centuries. Ameen.
Wallahua'lam.